Automatic Air Freshener Machine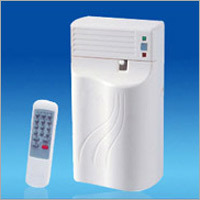 Automatic Air Freshener Machine
We are affianced in providing Automatic Air Freshener Machine to our clients. There is no need to spray room fresheners manually, this machine will spray it automatically. This features a day/nigh sensor so that you can set it to operate automatically. Also, there are several pre-set time intervals which can be used for spraying on regular basis. This is powered by two D sized battery which provide a long working life to this Automatic Air Freshener Machine. Also, this is compact machine and you can carry it anywhere along.
Ideal for

OFFICES
SHOWROOMS
HOTELS
CONFERENCE HALL
RESTAURANTS
HOMES
HOSPITALS
Now keep your home or office air fully fresh with this AUTOMATIC AIR FRESHNER. Now no need to manually keep spraying low quality air freshners. Your visitors and customers feel relaxed as they enjoy great fragrance.
Traditional air fresheners only camouflage malodors. The Automatic Air Freshener and Air Neutralizer system has been value - engineered to do the complete job. The system eliminate odors leaving a clean fresh scent. Great for home or business use.
Features

Automatic Spraying at preset time intervals (5 minutes to 25 minutes) If you set the system to 5 minutes, it will spray automatically at every 5 minutes interval. Preset intervals are available at 5, 10, 15, 20, 25 minutes.
Can be preset for automatic day/night operation it has a day/night sensor. if you preset the switch to day - night, it will automatically operate during the day and automatically stop during night.
Sprays are metered to 3000 sprays.
Operates on only 2 batteries (D size) which are long lasting.
For best performance keep mounting position for dispenser is 7 feet from the floor and keep away from ventilation.
Available on two models Premium Model(Automatically Operated), Advance Model(Remote Control Operated).
Very small(9").compact and portable. can be kept on your desk or fitted on a wall.